I love being at the beach. Growing up, I was only about a half hour drive away – though during tourist season, it took a LOT longer! 🙂 Since my skin burns so easily, I would usually spend a lot of my time hiding under a beach umbrella, hoping I could stay out of the sun long enough to avoid turning the shade of a cooked lobster. I really wish I had
today's Etsy find
back then! Meet
Greg Gottfried
, owner of new Etsy shop
SolarSpotUmbrellas
. Very recently opened,
SolarSpotUmbrellas
offers only one item, but it's definitely a unique one!
Hanging out at the beach is great, but what happens if your cell phone battery is running low? I suppose you could run back to your car and charge it there, but no one wants to leave the sand & waves to impatiently wait in their car for their phone to charge. Here's where today's Etsy find comes into place…
the Solar Powered Umbrella.
Greg has created a double use product,
a functional and stylish beach umbrella that has two USB ports
for charging your electronics while you're at the beach.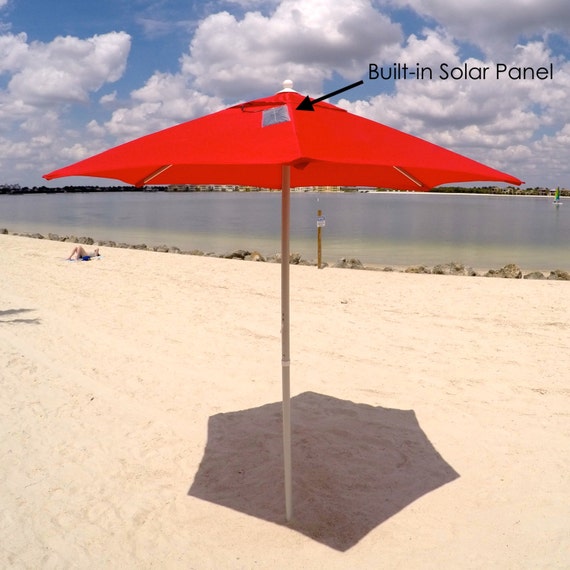 With a built in solar panel that powers the USB ports, you can charge your phone while lounging on the beach without any problem. No sweat!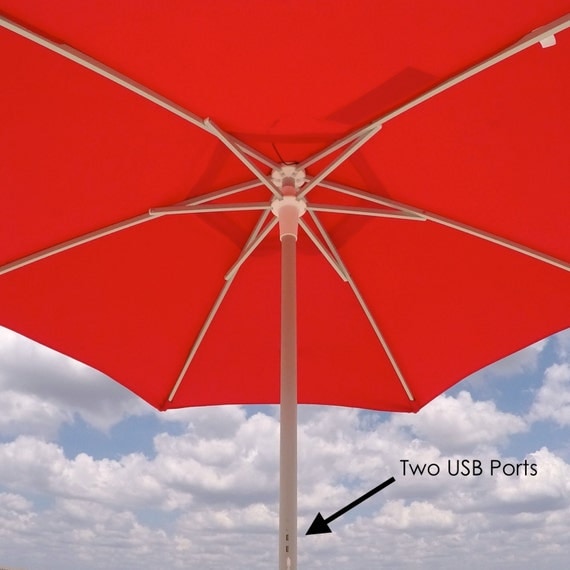 The
umbrella
itself comes in your choice of color – red, royal blue, black, or navy – and has a 7 foot wide canopy.  It's currently selling for $165.00, with FREE shipping!
Until next time, stay crafty (and hang out at the beach)!
-Katie